The Coaching Staff strives to create an atmosphere where each diver will be able to achieve his or her own potential in a positive and nurturing environment.
Head Coaches Susan and Donna
have been involved in diving for over 25 years either as a diver or coach. Both coaches have competed and coached at the age group, high school, collegiate and national levels.
Susan Bromberg
Windy City Diving Program Director
Diving Coach at University of Illinois at Chicago 2008 to present
Certified FINA Judge 2006-2014
Illinois Diving Association President
Current Chair of the Coaches Advisory Committee for USA Diving
USA Diving Past Committee Work – Governance, Membership, CCE
MVC and MAC Diving Coach of the Year – 2023
Horizon League Diving Coach of the Year – 2012, 2018, 2019, 2020, 2021, 2022
Lake Forest College Diving Coach 1999-2008
NCAA D3 Coach of year 2006
Highland Park High School Diving Coach 1986-1996
4 yr collegiate diver at University of Illinois – Urbana/Champaign
Missouri State High School Diving Champion
Jr. National qualifier
Donna O'Brien
Windy City Diving Coach 1997-2023
Fremd High School Girls and Boys Diving Coach '18 to present
Lake Forest College Diving Coach '08-'17
Certified FINA Judge
Palatine High School Girls Diving Coach '82-'11
Harper Jr. College Coach 1988-1991
Schaumburg Diving Academy Coach 1986-1996
Junior Diving Chair for IL Diving Association
ISA Diving Coach of the year 2002
4 yr. collegiate diver at Iowa State
3 time Collegiate National Qualifier
IHSA State Finalist Diving & Gymnastics
Assistant Coaches
Curt Bendell
Assistant Coach for Windy City Diving Team (Dryland Training Center Director)
Palatine High School Girls Coach 2012 –
Fremd High School Boys Diving Coach 1992 -2002
Conant High School Girls Diving Coach 1997- 2002
Assistant Coach Iowa State University 1989
Assistant
Coach: Schaumburg Diving Academy, Palatine Park District
Brian Bottcher
Assistant Coach for Windy City Diving (UIC Training Site)
Former USA Diving Safety Certification and Spotting Certification Instructor for Illinois
West Virginia Men's and Women's Head Diving Coach 1995-1997
WVU Diving club 1995-1997
Talawanda High School Men's and Women's Diving Coach 1994-1995
Coached two teams in the Fairfield County Country Club league 1992-1996
Assistant Coach Northwestern age group program 1991
Letter winner Miami University, Ohio 1990-1994
NISCA High School All American 1990
Abbey Bernardo
Assistant Coach for Windy City Diving Team (UIC Training Site)
Head Diving Coach for the University of Chicago 2014-2018
Gymnastics Coach at Viking Gymnastics 2017 to present
Volunteer Assistant Coach for the University of Illinois at Chicago Diving Team
Oakton Diving Head Coach 2009-2012
Northwestern University Volunteer Assistant Coach 2011-2012
Fenwick High School Diving Coach 2010-2011Urbana High School Diving Coach 2008-2009
University of Illinois Urbana-Champaign collegiate diver 2004-2007
Academic All-Big Ten Honors 2006-2008
IHSA State Qualifier 2000-2003
Former member of Windy City Diving Team
Matt Demirs
Assistant Coach for Windy City Diving Team (UIC Training Site)
Assistant Coach at SWIFT Aquatics (2019), ZAP Diving (2017-2018)
Westmoreland Country Club (2020-2021) Corinthian Yacht Club (2015)
Niles West High School Girls and Boys Diving Coach (2018-2022)
Lake Forest College Diver
MWC Championship 1M & 3M Finalist (4x)
NCAA Region 3 Qualifier 2015
Academic All-Midwest Conference
Massachusetts High School State Finalist (2012-2014)
Flex Lafortune
Assistant Coach Windy City Diving Team (UIC Training Site)
Letter winner at Univerity of Illinois-Chicago, 2018-2022
Horizon League Diver of the year, 2020, 2021, 2022
NCAA Academic Honorable Mention All American, 2020, 2021, 2022
Former member of Club de Plongeon de Gatineau, Canada
3-time member of Team Quebec 
Melissa (Holbach) Morris
Associate Coach for Windy City Diving Team (Arlington Heights and Palatine Program Director)
Letter winner at University of Akron, 2003-2007
MAC Conference Academic All- American
Illinois High School State Diving Meet Finalist 2002, 8th place
West Junior National Qualifier 2000
Illinois High School State Diving Meet Qualifier, 1999 -2002
Illinois High School State Gymnastics Finalist, Floor Ex., 1999-2002
Former member of the Windy City Diving Team
Amy (Bromberg) Phillips
Assistant Coach for Windy City Diving Team (Arlington Heights and Palatine Training Site)

Niles North High School Diving Coach
St. Charles East High School Diving Coach 2010-2012
Letter winner at Ohio University 2006-2010
scholar athlete at Ohio University
Honorable Mention,  MAC All- Conference Academic Team
IHSA State Meet Qualifier 2005
Former member of Windy City Diving Team
MacKenzie (Mac) Tweardy
Assistant Coach for Windy City Diving Team (UIC Training Site)
Volunteer Assistant Coach for the Purdue University Diving Team (2016)
Purdue University collegiate diver (2011 – 2015)
USA National Team Member – 10m Platform (2013 – 2014)
10m Olympic Trials Finalist (2016)
NCAA Platform All-America (2013 – 2015)
CSCAA Scholar All-America (2013 – 2015)
Distinguished Big Ten Scholar, Academic All-Big Ten (2013- 2015)
OHSA State Meet Runner Up (2011), State Qualifier (2009 – 2011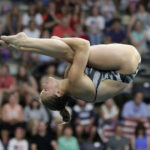 Laura Ryan
Assistant Coach for Windy City Diving (UIC Training Site)
7x U.S. National Champion – Synchronized Diving 
2x NCAA Champion (2014- 1m & 3m, 3rd place Platform, University of Georgia) 
U.S. National Team Member 2010-2016
U.S. Olympic Team Trials 2016- 4th place (3m), 2012- 11th place (10m)
World Cup team member – 2012, 2014, 2016 
World Championships Team Member – 2015
World University Games Bronze Medalist 2013 
Junior Pan American Championships Bronze Medalist 2010
2014 FINA Mexico Grand Prix Bronze Medalist
2012 AT&T USA Grand Prix Bronze Medalist
NCAA & SEC Diver of the year 2014
NCAA All-American 1m, 3m, Platform
2x SEC Champion and SEC record holder 3m (2013, 2014)
Big10 Platform Champion (2011, Indiana University)
MN State high school champion 2008
Caiming Xie
Lead Coach for Windy City Diving (UIC Training Site)
Head Diving Coach, University of Notre Dame (1995-2020)
Co-Head Coach, Double Dragon Diving Club (1996-2021)
Head Diving Coach, University of Toledo (1992-1995)U.S. Diving Technical Consultant (90's)
National-Class Senior Diving Coach, China
Olympic Diving Coach, China 1980 (Moscow, boycott)
Head Coach, Sichuan Province Diving Team, China
Diving Coach of the Year, BIG EAST Conference, 1999, 2004, 2005, 2006
Diving Coach of the Year, MID-AMERICAN Conference, 93-94, 94-95
Best Diving Coach of the Year, ALL-CHINA, 1986, 1987
Medals of Honors of All-sports, ALL-CHINA, 1982, 1986, 1987
1 ST place on 3-M Springboard, the 7 TH Asian Games, Tehran, Iran, 1974
1 ST place on Platform and 2 nd place on Springboard, at third All-China National Sports
Games, Beijing, China 1975
Numerous others 1 st , 2 nd , and 3 rd places in Chinese National Championships, 1972-1976
Ping Tong
Assistant Coach for Windy City Diving Team (UIC Training Site)
Co- Head Coach, Double Dragon Diving Club, Indiana 1996 – 2020
Volunteer Diving Coach, University of Notre Dame 1999 – 2011
Head Diving Coach, Saint Mary's College, IN 1997 -1999
Head Diving Coach, Saint St Joseph High School, IN 1997 -1999
Chinese National Team Coach, China 1981 – 1985
Sichuan Province Diving Team Coach, China 1976-1981; 1985-1992
Medals of Honors of All-sports, ALL-CHINA, 1991
Numerous top 3 – 6 places in Chinese National Championships, during 1972-1975
Chinese National Team Member, China 1971 – 1974